The Blessed Hope
Disease. War. Pollution. Around the world 65 million people die each year. Despite the best efforts of science and medicine, the inevitability of death is a problem humanity cannot solve. But the Bible shows us a world where pain, sorrow, and death will be destroyed. Join John Bradshaw to learn about the "blessed hope" that Jesus' death and resurrection provide for anyone who chooses to follow Him.
RECURSOS
¿Es Dios un ser lejano para ti, o puedes tener la seguridad de su presencia aún en momentos des desánimo? Esta obra te hará comprender la gloria que fluye del trono de Dios y podrás ver cómo Dios puede iluminar tu corazón despejando las tinieblas de la duda e incertidumbre para traerte una luz de esperanza.
ACERCA DEL PRESENTADOR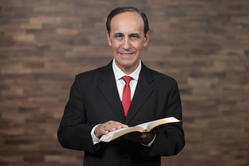 ROBERT COSTA es el director y orador de Escrito Está, un ministerio cristiano de comunicación que aborda verdades perennes y las aplica a la vida diaria. Te invitamos a navegar el sitio web de Escrito Está para que puedas escuchar nuestras presentaciones y descargar recursos bíblicos gratuitos.