The Greatest War
War and unrest have long troubled the city of Sarajevo in Bosnia and Herzegovina. Events which occurred in Sarajevo started World War I. The Bosnian War of the 1990s and decades of communism have also scarred the city. But a far greater trouble shakes the world right now—the greatest war rages. Join Pastor John Bradshaw on location in Sarajevo and learn how you can survive the greatest war.
RECURSOS
Esta es tu oportunidad para dar a conocer a otros el ministerio Escrito Está. Ahora puedes adquirir camisetas para adultos con el logo del ministerio y nuestro versículo lema. Disponible en todas las tallas.
ACERCA DEL PRESENTADOR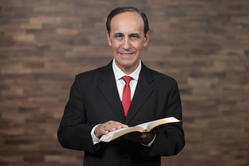 ROBERT COSTA es el director y orador de Escrito Está, un ministerio cristiano de comunicación que aborda verdades perennes y las aplica a la vida diaria. Te invitamos a navegar el sitio web de Escrito Está para que puedas escuchar nuestras presentaciones y descargar recursos bíblicos gratuitos.