The Immortal Woman
In 1951, Henrietta Lacks died at the age of 31, but her cells live on in laboratories across the globe, giving rise to the nickname "the immortal woman." HeLa cells are integral in the treatment and study of the major diseases of our day, bringing hope and health to innumerable patients. Join John Bradshaw for the story of Henrietta Lacks and learn about the immortality offered to you through Christ.
RECURSOS
Esta es tu oportunidad para dar a conocer a otros el ministerio Escrito Está. Ahora puedes adquirir camisetas para adultos con el logo del ministerio y nuestro versículo lema. Disponible en todas las tallas.
ACERCA DEL PRESENTADOR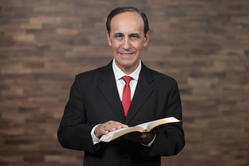 ROBERT COSTA es el director y orador de Escrito Está, un ministerio cristiano de comunicación que aborda verdades perennes y las aplica a la vida diaria. Te invitamos a navegar el sitio web de Escrito Está para que puedas escuchar nuestras presentaciones y descargar recursos bíblicos gratuitos.