The Leap of Faith
In Hebrews 11 we're told that faith is "the evidence of things not seen." Faith also plays a vital role in a thriving relationship with God. Join John Bradshaw on a hang gliding adventure as he takes a literal leap of faith and helps us to better understand what it truly means to trust in God.
RECURSOS
Esta es tu oportunidad para dar a conocer a otros el ministerio Escrito Está. Ahora puedes adquirir camisetas para adultos con el logo del ministerio y nuestro versículo lema. Disponible en todas las tallas.
ACERCA DEL PRESENTADOR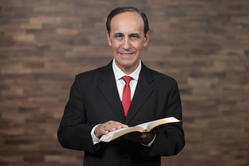 ROBERT COSTA es el director y orador de Escrito Está, un ministerio cristiano de comunicación que aborda verdades perennes y las aplica a la vida diaria. Te invitamos a navegar el sitio web de Escrito Está para que puedas escuchar nuestras presentaciones y descargar recursos bíblicos gratuitos.