The Methuselah Factor
The shocking truth is that most people could live longer than they are going to live, if only they made better choices. In "The Methuselah Factor," Pastor John Bradshaw is joined by lifestyle expert Dr. David DeRose as they discuss how to live sharper, leaner, longer, and better. Simple things can make a huge difference. Learn how you can enjoy a better quality of life while preparing for eternal life!
RECURSOS
El relato de los Valdenses es uno de los más inspiradores de la historia. Y en esta serie de cinco partes, el pastor Robert Costa se enfocará en algunos héroes de la fe poco conocidos, cuyas vidas iluminaron algunos de los días más tenebrosos de la Edad Media.
ACERCA DEL PRESENTADOR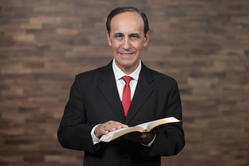 ROBERT COSTA es el director y orador de Escrito Está, un ministerio cristiano de comunicación que aborda verdades perennes y las aplica a la vida diaria. Te invitamos a navegar el sitio web de Escrito Está para que puedas escuchar nuestras presentaciones y descargar recursos bíblicos gratuitos.