The Scottsboro Nine
It was a colossal miscarriage of justice: nine young men found guilty of a crime they didn't commit, and the deciding factor was the color of their skin. Join John Bradshaw in Scottsboro, Alabama, for this story of brutal discrimination, and learn why it's so important to serve a God who is just.
RECURSOS
Lecciones sencillas que te guiarán, paso a paso, a una comprensión más profunda de la Palabra de Dios y su plan maravilloso para tu vida
ACERCA DEL PRESENTADOR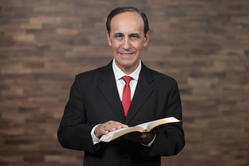 ROBERT COSTA es el director y orador de Escrito Está, un ministerio cristiano de comunicación que aborda verdades perennes y las aplica a la vida diaria. Te invitamos a navegar el sitio web de Escrito Está para que puedas escuchar nuestras presentaciones y descargar recursos bíblicos gratuitos.