The Scottsboro Nine
It was a colossal miscarriage of justice: nine young men found guilty of a crime they didn't commit, and the deciding factor was the color of their skin. Join John Bradshaw in Scottsboro, Alabama, for this story of brutal discrimination, and learn why it's so important to serve a God who is just.
RECURSOS
Este paquete de 24 señaladores es el regalo perfecto para los estudiantes de la Biblia. Contiene referencias rápidas para tu estudio personal o en grupos pequeños. Cada señalador comienza con una breve historia y profundiza en temas como: ¿Por qué hay tantas iglesias? ¿Qué sucede después de la muerte? ¿Cómo podemos reconocer a un profeta verdadero? Adquiérelo hoy.
ACERCA DEL PRESENTADOR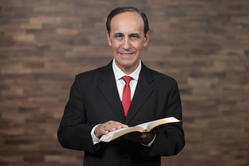 ROBERT COSTA es el director y orador de Escrito Está, un ministerio cristiano de comunicación que aborda verdades perennes y las aplica a la vida diaria. Te invitamos a navegar el sitio web de Escrito Está para que puedas escuchar nuestras presentaciones y descargar recursos bíblicos gratuitos.