The Trail of Tears
The Indian Removal Act of 1830 forced American Indians to leave their ancestral lands and travel over 1,000 miles on foot. Thousands died on the journey that would come to be known as the "Trail of Tears." Join John Bradshaw as he illuminates this tragic chapter in American history, and learn how a God familiar with suffering will one day wipe away all our tears.
RECURSOS
Lecciones sencillas que te guiarán, paso a paso, a una comprensión más profunda de la Palabra de Dios y su plan maravilloso para tu vida
ACERCA DEL PRESENTADOR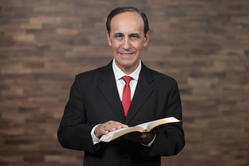 ROBERT COSTA es el director y orador de Escrito Está, un ministerio cristiano de comunicación que aborda verdades perennes y las aplica a la vida diaria. Te invitamos a navegar el sitio web de Escrito Está para que puedas escuchar nuestras presentaciones y descargar recursos bíblicos gratuitos.