Trouble in the Temple
The Bible says the human body is the temple of the Holy Spirit. But there's trouble in the temple, as millions of people die prematurely from avoidable, lifestyle-related diseases. In many cases, something as simple as making different choices would result in longer, better-quality lives. In Trouble in the Temple, John Bradshaw is joined by cardiologist Dr. Brian Schwarz, who shares the powerful secrets of living longer, happier, healthier, and holier!
RECURSOS
Lecciones sencillas que te guiarán, paso a paso, a una comprensión más profunda de la Palabra de Dios y su plan maravilloso para tu vida
ACERCA DEL PRESENTADOR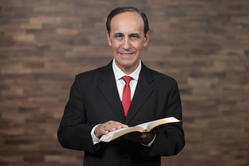 ROBERT COSTA es el director y orador de Escrito Está, un ministerio cristiano de comunicación que aborda verdades perennes y las aplica a la vida diaria. Te invitamos a navegar el sitio web de Escrito Está para que puedas escuchar nuestras presentaciones y descargar recursos bíblicos gratuitos.