Unwrap My Heart
The wise men famously traveled from afar to bring gifts of gold, frankincense, and myrrh to the Messiah. It may not seem likely, but there's a gift that you can give God which is just as precious. Join John Bradshaw and guest musicians for "Unwrap My Heart," in celebration of that special night when God worked through Mary to give humanity the greatest gift of all.
RECURSOS
Esta es tu oportunidad para dar a conocer a otros el ministerio Escrito Está. Ahora puedes adquirir camisetas para adultos con el logo del ministerio y nuestro versículo lema. Disponible en todas las tallas.
ACERCA DEL PRESENTADOR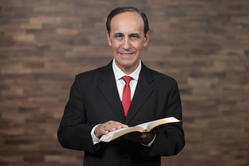 ROBERT COSTA es el director y orador de Escrito Está, un ministerio cristiano de comunicación que aborda verdades perennes y las aplica a la vida diaria. Te invitamos a navegar el sitio web de Escrito Está para que puedas escuchar nuestras presentaciones y descargar recursos bíblicos gratuitos.