Who Was Desmond Doss?
John Bradshaw shares how war represents the greater spiritual struggle between good and evil, and discusses the character of Doss and his faith. Recorded on location at various sites commemorating the life of Desmond Doss.
RECURSOS
El relato de los Valdenses es uno de los más inspiradores de la historia. Y en esta serie de cinco partes, el pastor Robert Costa se enfocará en algunos héroes de la fe poco conocidos, cuyas vidas iluminaron algunos de los días más tenebrosos de la Edad Media.
ACERCA DEL PRESENTADOR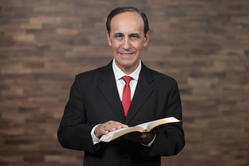 ROBERT COSTA es el director y orador de Escrito Está, un ministerio cristiano de comunicación que aborda verdades perennes y las aplica a la vida diaria. Te invitamos a navegar el sitio web de Escrito Está para que puedas escuchar nuestras presentaciones y descargar recursos bíblicos gratuitos.