Episode 13
Pastors John and Eric provide Bible answers to your questions about why there are so many denominations, the Sabbath and which day it is, the New Jerusalem in the third heaven, debt and salvation, resurrection, if it's okay to celebrate birthdays, and more.
RECURSOS
Lecciones sencillas que te guiarán, paso a paso, a una comprensión más profunda de la Palabra de Dios y su plan maravilloso para tu vida
ACERCA DEL PRESENTADOR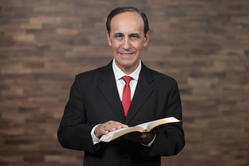 ROBERT COSTA es el director y orador de Escrito Está, un ministerio cristiano de comunicación que aborda verdades perennes y las aplica a la vida diaria. Te invitamos a navegar el sitio web de Escrito Está para que puedas escuchar nuestras presentaciones y descargar recursos bíblicos gratuitos.