2020 Q2 Lesson 7: Languages, Text, and Context
Some people not only have the Bible translated into their native language but even have various versions of it in their own language. Others might have only one version, if even that. But regardless of what you have, the key point is to cherish it as the Word of God and, most important, to obey what it teaches.
RECURSOS
Esta es tu oportunidad para dar a conocer a otros el ministerio Escrito Está. Ahora puedes adquirir camisetas para adultos con el logo del ministerio y nuestro versículo lema. Disponible en todas las tallas.
ACERCA DEL PRESENTADOR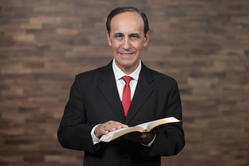 ROBERT COSTA es el director y orador de Escrito Está, un ministerio cristiano de comunicación que aborda verdades perennes y las aplica a la vida diaria. Te invitamos a navegar el sitio web de Escrito Está para que puedas escuchar nuestras presentaciones y descargar recursos bíblicos gratuitos.