2020 Q2 Lesson 9: Creation: Genesis As Foundation, Part 2
The Bible opens with the most sublime and profound words, words that are simple but that simultaneously contain a measureless depth when carefully studied. In fact, the greatest questions of philosophy regarding who we are, why we are here, and how we got here are answered by the first sentence of the Bible.
RECURSOS
Lecciones sencillas que te guiarán, paso a paso, a una comprensión más profunda de la Palabra de Dios y su plan maravilloso para tu vida
ACERCA DEL PRESENTADOR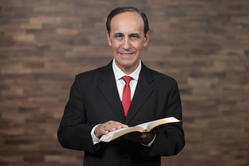 ROBERT COSTA es el director y orador de Escrito Está, un ministerio cristiano de comunicación que aborda verdades perennes y las aplica a la vida diaria. Te invitamos a navegar el sitio web de Escrito Está para que puedas escuchar nuestras presentaciones y descargar recursos bíblicos gratuitos.