A Question of Worship
Central to the covenant relationship between the Lord and Israel was worship. What made the Israelites different from all the world around them was that they alone as a nation were worshiping the true God, as opposed to the false gods and goddesses of the pagan world, which were really no gods at all.
RECURSOS
Lecciones sencillas que te guiarán, paso a paso, a una comprensión más profunda de la Palabra de Dios y su plan maravilloso para tu vida
ACERCA DEL PRESENTADOR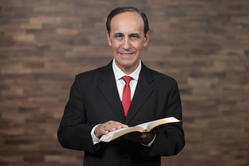 ROBERT COSTA es el director y orador de Escrito Está, un ministerio cristiano de comunicación que aborda verdades perennes y las aplica a la vida diaria. Te invitamos a navegar el sitio web de Escrito Está para que puedas escuchar nuestras presentaciones y descargar recursos bíblicos gratuitos.