Jesus Is Our Champion
The Israelites wanted a king to be their judge and their leader in battle because they forgot that God was their King. The complete restoration of God's rule over His people came with Jesus. As our King, Jesus leads us in the battle against the enemy.
RECURSOS
Este paquete de 24 señaladores es el regalo perfecto para los estudiantes de la Biblia. Contiene referencias rápidas para tu estudio personal o en grupos pequeños. Cada señalador comienza con una breve historia y profundiza en temas como: ¿Por qué hay tantas iglesias? ¿Qué sucede después de la muerte? ¿Cómo podemos reconocer a un profeta verdadero? Adquiérelo hoy.
ACERCA DEL PRESENTADOR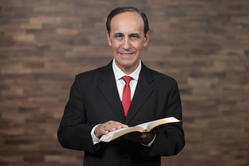 ROBERT COSTA es el director y orador de Escrito Está, un ministerio cristiano de comunicación que aborda verdades perennes y las aplica a la vida diaria. Te invitamos a navegar el sitio web de Escrito Está para que puedas escuchar nuestras presentaciones y descargar recursos bíblicos gratuitos.