No Middle Ground
In the end, there is no middle ground for us human beings. Before the great controversy is completely over, sin, Satan, evil, disobedience, and rebellion will be eradicated. After that happens, each one of us, individually, will either have the life, the eternal life, that God originally had planned for us all to have before the Creation of the world, or face eternal death.
RECURSOS
Lecciones sencillas que te guiarán, paso a paso, a una comprensión más profunda de la Palabra de Dios y su plan maravilloso para tu vida
ACERCA DEL PRESENTADOR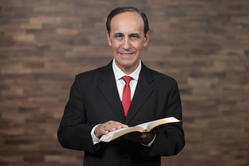 ROBERT COSTA es el director y orador de Escrito Está, un ministerio cristiano de comunicación que aborda verdades perennes y las aplica a la vida diaria. Te invitamos a navegar el sitio web de Escrito Está para que puedas escuchar nuestras presentaciones y descargar recursos bíblicos gratuitos.